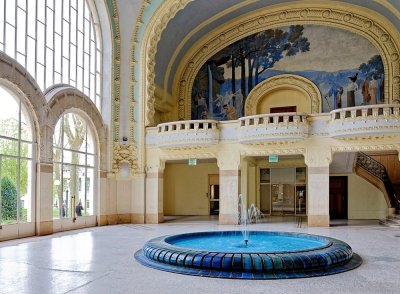 The Hotel Arverna is next to the Vichy Spa centers
Vichy has been known for a very long time for its medicinal thermal waters, rich in bicarbonate and trace elements.
The Hotel Arverna is 700m from the thermal waters and spa centers
Romans in the Gallo-Roman times liked hot baths of Vicus Aquis Calidis - 'Village des Eaux Chaudes". The originality of the Vichy cure is to treat two kinds of disease : rheumatology and digestive system problems. The cure is essentially based on drinking thermal water and other thermal practices such as the hosepipe shower or the immersion in mud, massages ...
There are two kinds of thermal water in Vichy :
The Cold Springs
« Célestins » Spring - 22°. The less mineral and the "most drinkable" for the non-curist.
« Chomel » Spring - 27°. Used in drinkable cure and known for its anti-allergic properties.
The Hot Springs
« Hôpital » Spring - 34°, rich in carbon anhydride
« Chomel » Spring - 43.5°, very fluoride and the most used because of its good acceptance by patients.
« Grande Grille » Spring - 39°, the most fluoride and very active.
All these waters have a positive effect on the pancreas, the colon, and on food allergies.
The Centre Thermal des Dômes has also developed a leanness cure with the thermal water and a dietary food of quality.
The Celestin Spa is the bigger in Europe with their famous Vichy shower with four hands massage.