Top things to do in Vichy near the Hotel
Stay in the epicenter of Vichy's rich culture heritage. Situated less than 700 m from the Vichy Opera House, the Hotel Arverna is one of the best hotels to stay in when visiting the Opera House.
Take advantage of our deal "One night at the Opera" which entitles you to a 10% discount on your room when you present your ticket for the Vichy Opera House at the hotel's reception desk.
Programme de l'Opéra de Vichy ETE 2019 du 28 juin au 25 août 2019
L'Opéra de Vichy est sans doute le lieu qui représente le plus Vichy. C'est à la fois le lieu d'une culture vivante et le symbole de la richesse du patrimoine de la reine des villes d'eaux.
L'Année 2019 est placée sous le signe de l'UNESCO et l'Opéra accompagnera l' événement par l'exposition…
From Friday 03 May 2019 to Monday 26 August 2019
@ Opéra de vichy
EXPOSITION DE ROBES – FONDATION VASSILIEV : L'ÉLÉGANCE EN VILLÉGIATURE – VICHY 1852-1870

Si aujourd'hui il nous arrive de nous mettre sur notre 31 pour aller danser ou de revêtir une tenue de sport pour aller courir, au Second Empire, les femmes de la bourgeoisie changent de tenues plusieurs fois par jour. L'activité pratiquée, le lieu fréquenté, les personnes rencontrées sont autant…
From Sunday 14 July 2019 to Sunday 03 November 2019
@ ¨Palais des congrès Opéra de Vichy
"IL ETAIT UNE FOIS LA REINE DES VILLES D'EAU"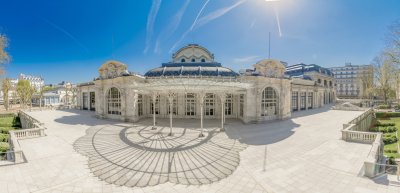 CONNAÎTRE ET COMPRENDRE LE PASSÉ, APPRÉHENDER LE PRÉSENT, ET IMAGINER L'AVENIR DE VICHY
Pour accompagner et soutenir la démarche UNESCO, la Ville de Vichy présente, du 14 juillet au 3 novembre, une grande exposition.
…
From Sunday 14 July 2019 to Sunday 03 November 2019
@ PALAIS DES CONGRES OPERA DE VICHY
OPERA DE VICHY - LES PECHEURS DE PERLES de G.BIZET - Vendredi 2 Août 2019 à 20h00
Opéra en 3 actes - Musique de G. Bizet - Livret d'Eugène CORMON et Michel CARRE
Une autre des grandes oeuvres du compositeur de CARMEN. une oeuvre très aboûtie qui comporte de nombreux airs connus dont la fameuse "Romance de Nadir" immortalisée par les plus grands ténors.
La richesse et…
From Friday 02 August 2019 to Friday 02 August 2019
@ Opéra de Vichy