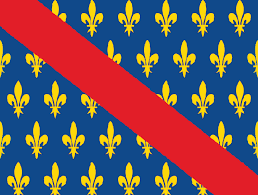 Trace the origins of the Bourbons
A lovely part of France to discover ... the Bourbons' birthplace. Administratively attached to the Auvergne region, the Allier is the birthplace of the Bourbon dynasty.
Before acquiring the name Arverna - latin name of the Arvernes Gaulish tribe - the hotel was named after a famous ancestor of the Bourbon family : 'Le Grand Condé'.
Allier is a rural area with various landscapes where every village has its castle or manor, it is one of the main places in France with such castles and beautiful residences. The famous one is Lapalisse. Today his descendants are still the owners. It is open to the public from April to October.
The Allier is still a wooded place, notably with its Tronçais forest and some of the most beautiful oaks in Europe. The great Bordeaux wines and the eaux de vie of Cognac are often matured in Tronçais forest oak barrels.
The sylviculture is also well developed in the mountainous part of Allier : la Montagne Boubonnaise adjacent to the Monts du Forez.
You can find the famous Charolais Cow here, where it loves to graze, and also picturesque vineyards.
The wine of St Pourçain originally from Gamay and Pinot noir for red wine is a bright and very pleasant to drink wine.
Some of the must see attractions in the Allier
Charroux, one of the most beautiful villages of France, about 25 km of Vichy
Chatel-Montagne, in the Montagne Bourbonnaise
St Pourçain sur Sioule and its vineyard - 25kms
Village de Chantelle and its abbaye-forteresse home to benedictine nuns - 25 km
Montaigu Le Blin - 20kms - and its beautiful residences
Le château de La Palice in Lapalisse, historic residence of M. de La Palice
Le château de Veauce, a haunted place located at 35kms
Museum of Suits Scene at Moulins - 55kms
Le château Le Riau at Villeneuve sur Allier, north of Moulins
Le village d'Hérisson, near the Aumance river in the Tronçais forest